2. Walk in the Woods
Abeliona - Chestnut Trees Forest - Abeliona






Trail description
There is no better way to get to know and enjoy the wonderful chestnut forest of Abeliona, with its centuries-old oaks, churches and springs, than this route. It moves on dirt roads with a gentle slope, starting and returning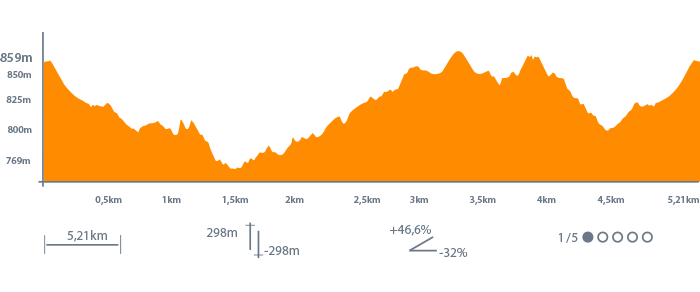 Sightseeing spots
Abeliona
Built on the notorious crossroads of three counties, Arcadia, Ilias and Messinia, Abeliona is a traditional mountain village surrounded by chestnut forests and innumerable natural springs. Cobblestone streets and old stone houses, hiding images, sounds and scents from another era, reveal themselves for a moment, before the fresh, mountainous air drifts away. A place that turns simple daily delights, into unique experiences that you want to experience again.
Chestnut forest
The chestnut tree forest of Abelionas is one of the largest and oldest forests in the Peloponnese. The hiker, walks beneath perpetual chestnut trees.
The oldest of them, many centuries old, are awe-inspiring with their huge logs and their persistent vitality. The Chestnut forest, an important element of livelihood of the villagers, is also an important habitat with many rare plant species. Dense in places and elsewhere less, invites visitor to leave the trail to explore the forest. Don't try it unless you have a local person who knows the track. After the chestnut area, the trail passes through the oak tree area. The centuries-old oaks, the threshing floors, the old fields with the dry stones, the ideal light and the bells ringing from a distant flock of sheep and goat, give the place that calm roughness that characterizes the so-called Arcadian landscape. The place offers the visitor an irresistible charm – the closest to the romantic utopia of Eudaimonia Arcadia.