3. The Road of Water
Neda - Springs of Neda - Petra - Neda






Trail description
Starting from the settlement of Neda, or Berekla as it was formerly called, the route descends gently on a dirt road. At a bend in the road, the mill of Panagia (Holy Mary), and the stone, ruined house of the miller emerge. A little further down, the dirt road passes through an arched stone bridge, which allows the passage over a tributary of the Neda.

A little further down, the place is ideal for a first stop on the clearing, where the churches of Agios Giorgis and Panagia (Holy Mary) are located. Continuing from there, the route continues on a dirt road parallel to the river Neda, but much higher than that. After a few hundred meters, the dirt road reaches the main road, where at this point the route passes through a bridge over Neda.

A little further down, a small detour leads to the watermill of Karanikas. The watermill was recently repaired and the place is designed so one can make a stop next to the running water. A little above the watermill, the route through a small detour leads to the idyllic landscape of the springs of Neda. A stop here is required. In summer the spring is accessible to fill in your flask and drink water.

In winter, however, the gushing waters literally drown the spring! The route from there continues to Petra, and ends at the settlement from the west, via a gentle dirt road. The stone houses and alleys of the village are worth a stop and a short tour by bike or on foot. From Petra, via the road, the route ends at the starting point.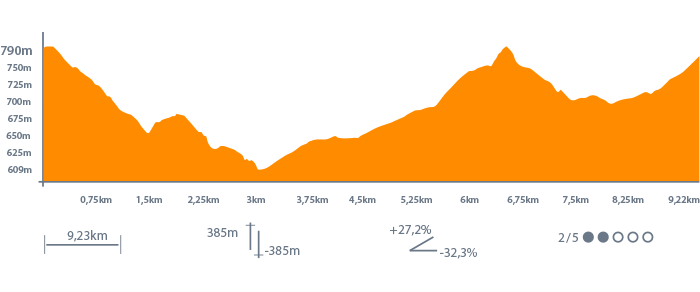 Sightseeing spots
Neda Springs
Neda is thought to originate from this point, although the waters of all the rivers and streams that precede it end here. During the summer months when the aquifer is lowered, the waters gush from the bottom of the small lake. In the winter, however, they spill over, dramatically foaming with a loud noise from a slit in the rock. The small lake of springs was formerly called the "Karamicha aisle" because its waters fed the Karamicha watermill, which is preserved in good condition about 100 meters below the river. Next to the fountains you will see the picturesque Church of St. Anastasia.
This is usually where the two-day Neda Crossing adventure begins, organized by local clubs each summer. This is a path of great interest, but very difficult and dangerous. Don't try it yourself.
Petra
A picturesque village on the right bank of Neda, a few hundred meters north of its springs. The old name of the village was Delga. It also has a "bottom road" also known as "Dreka".